Eid Mubarak dear brothers and sisters! تقبل الله منا ومنكم صالح الاعمال . May Allah SWT accept our good deeds during the month of Ramadan and keep us steadfast moving forward. May He forgive our shortcomings and guide us to the straight path. Amiin!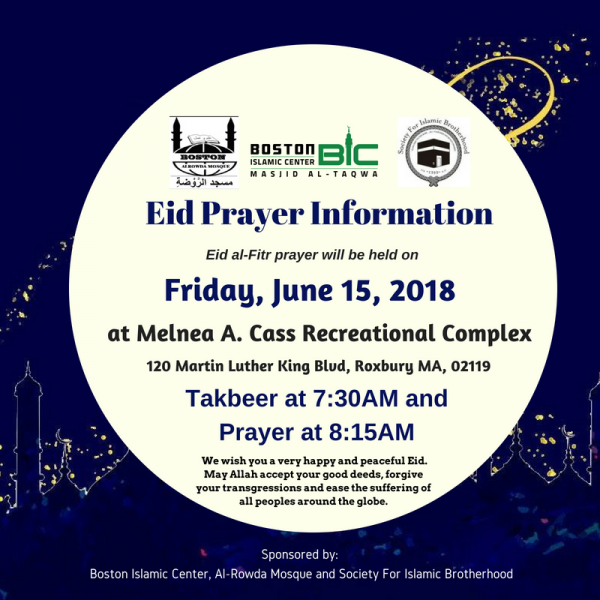 Eid prayer will be held at our usual spot, the Melnea A. Cass Recreational Complex located on 120 Martin Luther King Blvd. The takbeer will start at

7:30 AM

and the prayer will start at

8:15AM.
Salaam. Ciid Mubaarak dhamaan walaalaha Muslimiinta ah ee Bishaan Ramadaan khayrkeeda ka faa'iidaystay.
Walaalayaal Bari oo ah Jimce June 15, 2017, waan Ciidaynaa hadii Alle Idmo. Waxaan Salaada Ciida ku tukan doonaa Goobtaan horay ugu tukan jirnay ee ah
Melnea Cass Recreational Complex, kutaala 120 Martin Luther King Jr. Blvd, Roxbury, MA 02119.
Takbiirta waxay bilaamaysaa 7:30 AM, Salaada waxaa latukan doonaa 8:15 AM.