We want to extend our warmest invitation to the entire Boston Somali community to join us this Saturday at 2 PM for the celebration to commemorate the expansion of the BIC Masjid.
Alhamdulilah, Allah SWT has blessed us with a Masjid double in size, allowing us to fit our congregants in a blessed manner.
The Prophet (ﷺ) said: He who does not thank the people is not thankful to Allah.
We are incredibly grateful for all the support and assistance we've received from our community, in Boston and across the US. You have contributed your time, money, and efforts to make the Masjid expansion project a reality. May Allah swt accept your charity and make it a means of forgiveness and nearness to Him.
At the event we will be joined by our Sheikh Yusuf Abdulle. There will be presentations, lectures, community conversation, and more. Lunch will also be provided. Please note that children under 14 years old will not be allowed to attend. They will have their own event on Sunday at Noon, where they will have prizes and food!
We hope to see you all there!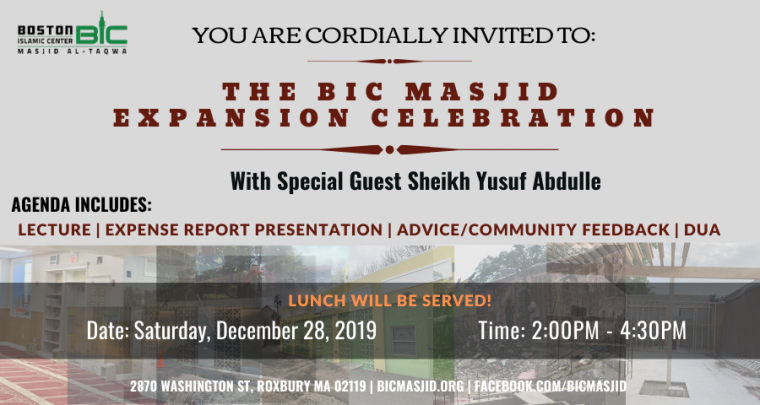 ---
Alxamdulullah, Alxamdulillah, Alxamdulillah. Mahad idilkeed waxaa iska leh Allah SW. oo noo yasiray inaan mudo yar oo kooban aan gurigiisa aan ku dhisno. Ilaahay intii maal iyo maskax ku bixisay haka aqbalo dhamaan cibaadaadkooda.
Walaalayaa, sida aad maqasheen, dhismihii Masjidku waa dhamaystirmay. Dawlada hoose ee Boston waxay warqadii ogolaanshaha isticmaalka masjika ay nasiisay galinkii hore Malintii Jimcaha, December 13, 2019.
Sidaas daraadeed, waxaan qado sharafeed wadata warbixin iyo xisaab xir ku casumanayaa dhamaan walaala muslimiinta ah ee maalkooda, maskaxdooda iyo wakhtigooda uga qayb qaatay dhismaha Masjidkaan aadka u quruxda badan. Casumaado waa maalinka Sabtida December 28, 2019, waktiguna waa 2:00 PM Ilaa 4:30 PM.
Waxaa marti inoo ah culimo kala duwan uu kamid yahay Imam kii hore ee Masjidkeena Sh. Yusuf Abdulle. Fadlan wixii Macluumaad dheeraad ah kaga bogo flyerka hoose